What is an ingrown toenail?
An ingrown toenail occurs when the toenail irritates and/or penetrates the skin at the side of the nail. This can lead to pain, swelling, infection, discharge, and difficulty walking and wearing enclosed shoes. Ingrown toenails are a common condition afflicting people of all ages, including children.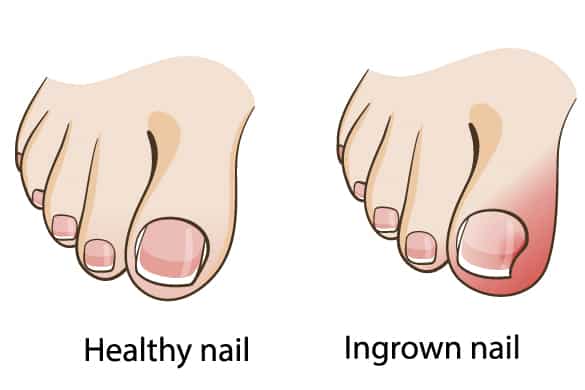 What causes ingrown toenails?
There are many causes of ingrown toenails, including:
unusually curved or thickened toenails, which are often hereditary
adolescence, during which feet tend to sweat excessively, causing the skin surrounding the toenails to soften and become easy for the nails to damage
traumatic injury, such as a blow to the toe or toenail, which can result in the nail penetrating the surrounding skin
wearing shoes that crowd your toenails, compressing the nails into the surrounding skin
cutting your toenails too short or tapering them in at the corners (picking at your toenails can also cause them to become ingrown)
How are ingrown toenails treated?
General treatment of ingrown toenails involves routine nail cutting to free up the nail edge, which is then cleaned with a sterile instrument and packed with lint-free swab. This method generally requires ongoing maintenance, depending on the shape of the toenail and the severity and duration of the condition.
Ingrown toenail bracing is a revolutionary treatment, introduced to Australia by Foot Health Clinic, that works in a similar way to dental braces. Click here to learn more.
Ingrown toenail surgery is an alternative treatment option, for chronic ingrown toenails that fail to respond to more conservative care. Click here to learn more.
What should I do if I have an ingrown toenail?
If the skin around your toenail is red, swollen, bleeding or discharging, you may have an infection, and should seek treatment as soon as possible.
Our podiatrists in Brisbane Northside offers a full range of ingrown toenail solutions, from advice on correct nail cutting techniques to ingrown toenail surgery. We are Australian specialists in ingrown toenail bracing. Please contact us to discuss the most effective solution for you.