Podiatry Care for Diabetic Patients
Diabetes is a metabolic disorder that affects the body's ability to produce insulin, which impacts sugar levels in the blood. There are three types of diabetes, and type 2 is the most common. The symptoms of diabetes generally develop gradually; many people have the illness long before they realise it. It is the fastest-growing non-infectious disease in the world, with more than one million people in Australia living with Diabetes.
Diabetes affects the body in many ways. It may be surprising to learn, but the disease does pose a risk to foot and lower limb health. If appropriate preventative care or treatment is not performed when required, the complications can be serious. Statistically, around 85 people with diabetes per week lose a toe, a foot, or even a leg due to diabetic foot disease. Subsequently, podiatry can be a crucial part of health management for people with diabetes.
The podiatrists at the Foot Health Clinic are qualified and experienced in providing preventative and high-risk foot care. Please contact us for a comprehensive assessment and care plan.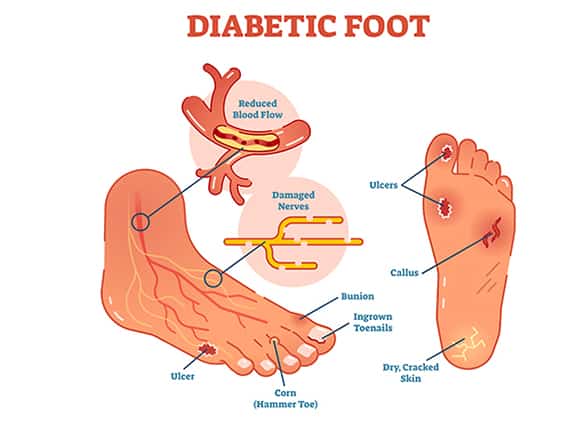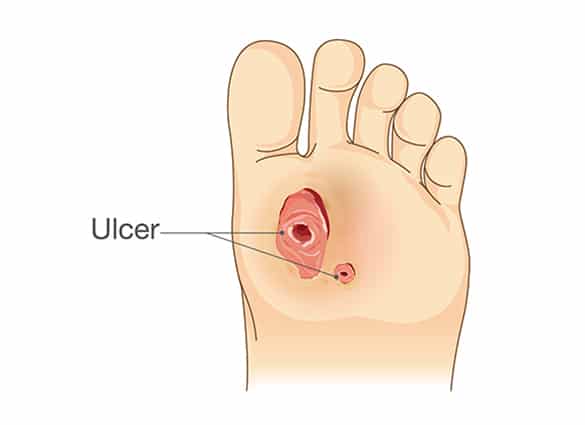 Why is Foot Care Important in Diabetes?
Maintaining adequate blood sugar levels is a foundational step for managing diabetes, which your medical healthcare team will support you with. This may reduce the risk of foot and lower limb complications alongside podiatry care.
Regular foot care can involve preventative measures, adequate hygiene, monitoring for signs of neuropathy or vascular issues, and addressing any issues as early as possible if they arise. Our podiatrists can provide guidance and education, undertake thorough assessments, and implement interventions as required with the aim of reducing your risk of developing diabetes-related foot and lower limb issues.
Possible Foot And Lower Limb Complications With Diabetes
Because insulin production is affected in people with diabetes, their blood sugar levels can be outside of the normal range, causing an array of signs and symptoms. For example, poor circulation, which is a common issue for people with diabetes, has the potential to impair wound healing, meaning even a minor injury could become a significant concern. These factors heighten the risk of infections and ulcers, and, in severe cases, may lead to serious symptoms and treatment.
Some of the issues that diabetes can cause, which may affect your feet or lower limbs, include:
Diabetes And Peripheral Neuropathy
Elevated blood sugar levels can lead to nerve damage, also known as neuropathy. This condition develops slowly and worsens over time. There are often no symptoms due to reduced sensation. This means many people are unable to adequately feel pain or discomfort in their feet, meaning they have an increased risk of injuries and wounds.
Diabetes and Charcot Foot Syndrome
Charcot Foot Syndrome can be associated with diabetic peripheral neuropathy. It has the potential to be a serious complication causing reduced feeling in your feet. This means an injury may occur that you are unaware of and that you may continue using your feet when there is damage.
Diabetes and Foot Ulcers
Foot ulcers are sores on the feet that typically fail to heal on their own. They tend to be the most common complication of poorly controlled diabetes. If you have diabetes, you are at risk of developing a foot ulcer due to glycaemic abnormalities, or underlying neuropathy or peripheral vascular disease.
Diabetes and Peripheral Arterial Disease
Peripheral arterial disease is a circulation problem caused by a build-up of fatty deposits along the walls of the arteries. This may lead to insufficient blood flow to the muscles of your legs and feet. This has the potential to result in muscle pain and increase your risk of heart attack and stroke.
Reduce your risk of serious diabetes complications with quality foot care.
Why Choose Foot Health Clinic?
We have had the privilege of providing high-quality and comprehensive care to our community for over two decades. Our team is dedicated to helping each of our patients work towards a better quality of life. When it comes to diabetic care, we are passionate about supporting you as you deal with this complicated disease.
Diabetes-focused Care
Foot care that is related to diabetes requires specific information and skills. We are committed to updating our knowledge and resources to deliver the best possible preventative care and treatment for our patients with diabetes.
High-quality Equipment
Our team provides and utilises up-to-date equipment and tools to deliver optimal, modern podiatry care pertaining to the unique requirements of diabetes.
Friendly and Supportive
We understand that having a complex health condition can feel overwhelming. We are here to help you throughout the process of gaining and maintaining the best quality of life possible.
Early Detection And Diabetic Podiatry Care at Foot Health Clinic
If you have diabetes, podiatry care will most likely become part of your health care and management plan because of the complications it can cause in the lower limbs and feet. Visiting a podiatrist regularly may be a crucial element in maintaining your overall health and well-being.
At Foot Health Clinic, we provide regular foot screenings and deliver relevant diabetic foot care. We work to assess, identify, and manage the broad array of issues that can be linked to diabetes. Please contact us to organise an initial consultation and receive support with prevention, education, management, and treatment.