Fungal Toenail Infections are far From Fun
Fungal nail infections can have a significant impact on your daily life. These infections can cause discomfort and pain, and due to their often unsightly appearance, can result in self-consciousness and the desire to hide away your toes.  
The fungus that is typically to blame is called onychomycosis. It infiltrates the nail bed and nail plate and is generally spread through direct contact, which often occurs in shared spaces such as public swimming pools and gym changing rooms because they thrive in environments that are moist and warm.  The condition it causes affects around 6-14% of the population and is common across all age groups, though it tends to become more prevalent as we age. If you deal with uncomfortable, thickened, discoloured, rough, mishappen, dull, smelly, or crumbling toenails, it's likely this fungus has taken up residence.
Seek Treatment for Fungal Nail Infection
However, there is good news. Technological advances may bring you relief! Laser fungal nail treatment is a safe and pain-free option that targets the underlying fungal infection, promotes healthy nail growth, and restores the appearance of your nails. At Foot Health Clinic, we offer this revolutionary service to help you feel more comfortable and confident and prevent the infection from spreading or causing complications.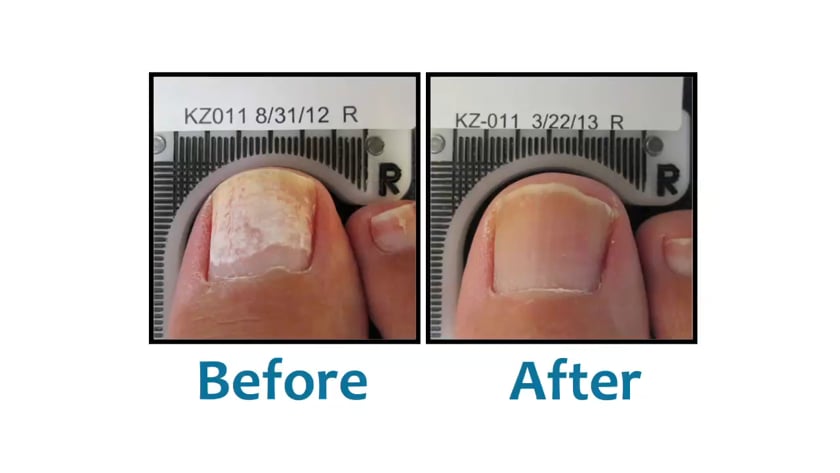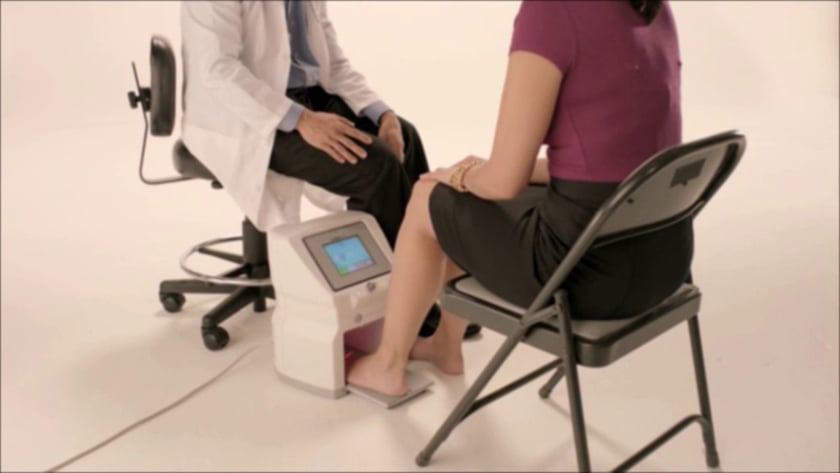 Turn to Technology For Relief From Fungal Infections
Untreated fungal infections can hang around for an extremely long time. This can be problematic, not only due to the reduced comfort and low self-esteem they can cause, but because the fungus can spread to other nails, may kick off skin infections, and can cause the nail to lift away from your nail bed, which may affect the skin integrity and health. The thickened, crumbly nail often becomes difficult to trim and may cause discomfort when wearing enclosed shoes, making it tricky to find suitable footwear and at worse may need ingrown toenail surgery.
Fungal nail infections are stubborn, and many people go through countless over-the-counter remedies, such as nail lacquers, or oral medications, hoping for a solution without much success. This can be expensive, time-consuming, and frustrating.
About the Erchonia® Lunula Laser
The Erchonia® Lunula Laser is a revolutionary low-level laser device bringing hope to people suffering from toenail issues associated with nail fungus. It uses low-level laser light to destroy the fungal cells and stimulate growth for strong, clear, and healthy nails. This treatment has no side effects, is pain-free and quick to perform, and requires no downtime after the procedure. Once the fungal cells are dead, the damage can begin to grow out as your healthy nail extends, which can take about 6-12 months due to the rate nails grow.
Erchonia® Lunula Laser Benefits Offered at Foot Health Clinic
Our Erchonia® Lunula Laser has become an increasingly popular choice to treat unsightly fungal toenail infections because it has:
     

A high success rate of approximately 80%.

     

No side effects.

     

No pain associated with the treatment.

     

All ten toenails can be treated at once.

     

Socks and shoes can be worn immediately after treatment.

     

No down time required.

     

Each treatment only takes about 30 minutes.
The number of treatments required to restore clear, healthy nails will depend on the severity of your nail infection. The earlier treatment is commenced, the easier the toenail fungus is to treat. Sessions are generally undertaken once a month.
During your initial consultation, one of our podiatrists will perform a thorough assessment to diagnose the issue. Once we have identified the cause of your symptoms, we will discuss the infection and your options, including the details about Erchonia® Lunula Laser treatment, the costs, and the benefits you can expect. We will develop a treatment plan for you, which may include laser fungal nail infection treatment, as well as education regarding self-care and maintenance.
Say goodbye to pesky nail infections with laser fungal nail treatment at Foot Health Clinic.
Laser Fungal Nail Treatment FAQs
Why Visit Foot Health Clinic For Fungal Nail Infection Treatment?
Our podiatrist Northside team is passionate about improving our patients' foot health and comfort. We look forward to meeting you and supporting you to improve your comfort and reach your target outcomes.
Revolutionary Equipment 
We are proud to offer cutting-edge technology options like laser therapy, especially for conditions that can be tricky to treat with traditional treatments.
Laser Treatment Experience
We have a wealth of knowledge and skill between us and are always keen to expand our abilities and understanding of new treatment options.
Thorough Care
We provide care beyond surface-level treatment. We ensure you have a clear understanding of your options, how to improve and maintain your foot health, and know what steps to take to prevent further issues.
Reveal Healthy Nails With Foot Health Clinic's Help
If you are dealing with nails that are not feeling or looking great, please contact our friendly team to organise an initial consultation for assessment and diagnosis. We can work with you to establish a treatment plan and support you towards better foot health.