Help reduce pressure and demand on your feet and joints
Whether you're young or old, working in an active job, standing on hard floors all day or participating in sport and exercise is demanding on the joints of your feet, ankles and knees.   After a long day on your feet, working, exercising, hiking, running, this translates into:
fatigue;
muscle tightness;
Pain.
Shock-absorbing recovery shoes can help to reduce pressure and demand on your feet and joints at the end of your working day, after a work-out session or after a day hiking trails. So, instead of feeling foot muscle fatigue, foot pain or muscle tightness, your feet feel supported, relaxed, cushioned and able to recover faster.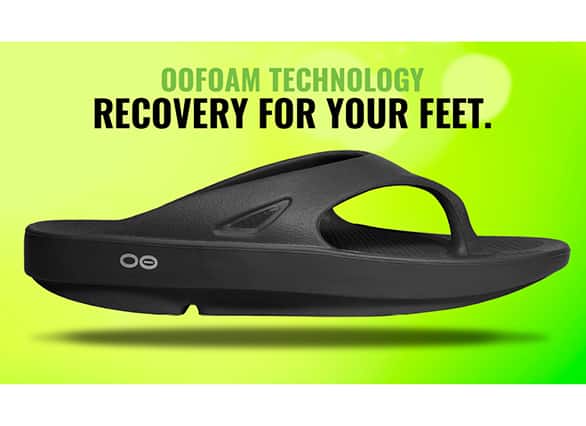 Hard-tiled Floors & OOFOS Recovery Footwear
If you have hard-tiled floors, cement floors or even timber floorboards in your home or office, your feet will eventually really suffer.  Many people complain of heel pain, plantar fasciitis, Achilles tendonitis, Sever's disease, metatarsalgia  and neuroma, all conditions that are exacerbated by walking barefoot on hard floor surfaces in the home. Using specially designed indoor recovery footwear, that absorbs shock from hard surfaces and cradles and supports your arch can help you avoid foot and ankle pain, providing comfort and relief. 
Hiking & OOFOS Recovery Footwear
Hiking involves walking long distances on all types of terrain, in all types of weather conditions, carrying a heavy pack on your back. This means repeated impacts through your feet. By the end of a day of walking, it is not unusual, even for an experienced hiker, for the muscles and tendons under the feet to get stressed, and in some cases over-worked and injured.
Painful, swollen, aching feet can ruin your well-planned hiking holiday.  Plantar fasciitis, or heel and arch pain, can easily develop on a walking trip, slowing you down and making every step painful.  What footwear is best to slip into at the end of a day of hiking, to cushion and protect your feet?
OOFOS Recovery Footwear can be worn at the end of a day of walking and can help reduce the strain on the soft tissues and joints of the feet.  OOFOS footwear are constructed from a unique, closed cell foam that provides increased impact shock absorption and a biomechanically engineered foot-bed that provides superior arch support.  
The OOFOS foam provides 37% more impact absorption than traditional EVA foam used in running shoes.  So, instead of stressing tired feet after a day of hiking, standing on hard floors, running or working out, the OOFOS foot-bed absorbs impact, giving your feet the opportunity to relax, rebuild and recover!