Strapping
Strapping, or taping, of the foot and ankle is an effective form of early treatment for many painful soft tissue injuries including plantar fasciitis, heel pain, shin splints, metatarsalgia, midfoot arthritis, posterior tibial tendon dysfunction, knee pain etc.  
Strapping an injured foot with sports-tape quickly reduces pain and inflammation, restricts motion across injured joints, compresses soft tissues to reduce swelling,  and supports the foot to reduce strain on injured soft tissues.  Strapping isn't a long-term solution but it can relieve symptoms and alleviate pain, allowing your injury to heal faster.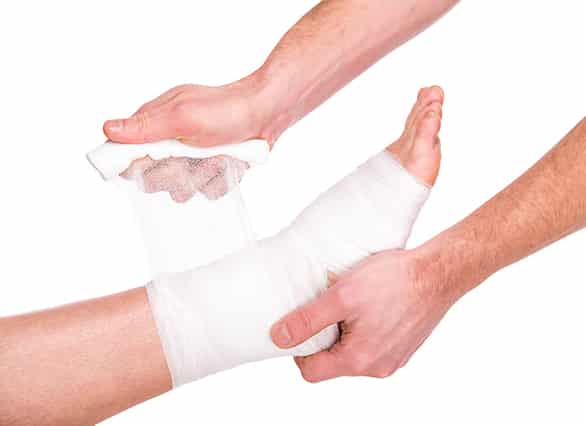 Splinting
Splints are medical devices that are worn on the foot or ankle to improve or maintain flexibility of a joint.  Splints may also help to immobilize a foot injury and provide rest while an injury heals. Some splints are designed to be worn overnight, providing a sustained stretch on soft tissues and tight muscles.
Benefits of splinting
Some common indications for the use of splinting in adults and children include:
The benefits of splinting may include:
Increased joint flexibility
Reduced pain
Offloading of an injured area while still allowing weight bearing
Prevention or reduction of foot or toe deformity (eg: juvenile bunion, hammer toe)
Splint types
When a splint is worn regularly and correctly, as prescribed, it can significantly improve flexibility, healing, functional ability and comfort.
Types of splints include:
Silicone Toe Splints
Moonboot (or CAM walker)