Purchasing the best shoes is vital
Australian school children can spend up to 40 hours per week in their school shoes, so making an informed choice and purchasing the best shoes for your child's feet is vital.
Children's feet are not fully formed until they are well into high school. For this reason properly fitting shoes in the first 12 years are crucial to the healthy development of rapidly growing feet.
We lay the foundations for our feet in childhood and neglect in these early years of foot development can have long lasting consequences. Poorly fitting school shoes can lead to long term foot health problems including bunions, ingrown toenails, hammer toes, corns or callus, thickened or deformed toenails, blisters and heel or arch pain.
Children's shoes needs
Children's shoes need to be:  
Fitted correctly – by trained footwear fitting staff or a Podiatrist
Appropriate for the activity – it is best to purchase a pair of everyday school shoes in addition to a pair of sports shoes
Durable – children are hard on their shoes and often only have one pair for all activities. Look for school shoes with a durable rubber outsole and reinforced stitching at the toe
Not too heavy – this is especially important for smaller children (prep kids) just starting school. Heavy school shoes can lead to leg and foot fatigue and inflammation of growth plates
Adjustable fastening – avoid slip-on shoes. School shoes should have adjustable fastening to allow for the best fit. Lace-ups are usually the best, but younger children are better with velcro straps or buckles that are easier to manage
6 Tips for Buying Children's Shoes
Growing Room

there should be about 10-12mm of space between the end of the longest toe and the end of the shoe insole. Always remove the shoe insole and have your child stand on it to check there is enough space.

Measure both feet for length and width

most people have one foot slightly longer or wider than the other.

Check for toe wiggle

your child should be able to move their toes freely without touching the end of the shoe.

Buy shoes at the end of the day.

our feet hold a little more fluid at the end of the day, this increased volume can take up a little more space inside the shoe, crowding a growing foot.

Take your school socks and sports socks with you

some school socks can be quite thick and this thickness may affect shoe fitting and comfort.

Check shoe fit regularly

children grow rapidly and sometimes in rapid spurts and it can be surprising to realise that the shoes you had fitted at the beginning of the school year are too small by mid-year.
For younger children, it's best to check shoe fit at the end of each school term. For upper primary or high school students, check shoe fit at least twice per year.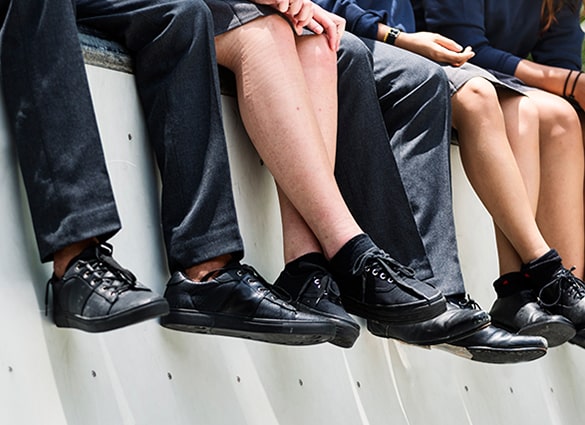 Footwear fitters
Children of all ages are not good at providing reliable feedback when being fitted with shoes as they are often strongly influenced by styles, colours and brands. For this reason, it is important that children are professionally fitted, by a trained footwear fitter who can objectively assess for accurate fit.
Our podiatrists in Brisbane Northtside are trained footwear fitters and have completed extra training in fitting children's shoes.
To ensure your child's feet are in safe hands and that they are wearing the correct size shoe, visit Foot Health Clinic for expert care and advice.